Photos: Brave Belgian Hero Jurgen Conings: Military hunt: Conings can survive for weeks in nature
[One of my European friends was telling me that we have another hero, the Frenchman who slapped the disgusting Globalist Macron in the face. That poor man got an 18 month prison sentence. But we have another really brave man, Jurgen Conings who is on the run. They have had the military going after him for long now. He disappeared into "the bush" as we in Africa would say. He is a former soldier. There was a story that German troops were also sent after him and that they "went rogue". But I've not been able to confirm that. It sounded as if the German troops disappeared. My one contact tells me that an online group of 46,000 people was formed, all of whom supported Jurgen's stand! There is definite support from common Whites for Jurgen. I will be sad if Jurgen is killed in the end. That is a very strong tragic possibility. But here is the latest story about him, translated from Dutch. It is not a good sign that they found a backpack of his. So it means that some of his rations and even a weapon is now lost. But he has evaded authorities for at least a month.The denseness of the forest is definitely an excellent factor on his side. I assume he is alone and has no means of communicating with people, therefore, he is on his own. I think he has multiple weapons. I do wonder if this will end tragically in a gun fight where he is killed. It is also sad that White men have to now hunt down one of our own, over the minor misdemeanour of this soldier who dared to speak his mind. But, Jurgen can be a hero because he is standing up to the system, and we need that badly, all across the Western world. Whites are looked upon and treated like DIRT across the West. ALL OF US NEED TO STAND UP AND RESIST. Jan]
Everything indicates that the fugitive Belgian soldier Jürgen Conings is prepared to go into hiding in nature for a long time. In addition to ammunition and medication, his backpack, which was found last week, also contained enough food to survive for several weeks, HLN reports. Empty cans of army food were also found near the bag. So he stayed there, but the question remains: where is he hidden now?
Soldiers found Conings' backpack on Wednesday when the forests near Dilsen-Stokkem were combed. He left his car almost four weeks ago at that place in Belgian Limburg.
In groups, the soldiers combed dense forests. About a mile from the car, camouflaged under the branches of a bush, a black backpack was found. The Belgian federal prosecutor considers the chance 'very high' that it is Jürgen Conings' backpack, but does not want to say anything about its contents. an FN P90 submachine gun, a knife and so-called 'trip flares'. The latter are light traps that are used in the army and that were also attached to Conings' car. In addition, according to HLN, the backpack was full of rations and material to be able to survive in nature for a long time. From this, researchers conclude that he prepared his flight very well. For example, there were several cans of food in the bag, which are not for sale in the store, but which are used by the Belgian army during missions or exercises. Conings also had 'energy blocks' with him: fast sugars that are used by endurance athletes and backpackers, among others, and which are for sale in all sports and travel stores.
Long stay
Sources confirm to HLN that it was enough ration to "survive a few weeks", and that everything indicates that Jürgen Conings was prepared for a long stay in the woods. The backpack would also have contained a water filter, which can easily filter up to 1000 liters into drinkable water. In addition to the backpack, a few empty cans of army food were also found near the site. Those were the same cans as those in the backpack. All items found are currently being investigated to determine whether they really belonged to Conings, but that already seems to be almost certain. So it seems that the fugitive soldier has been hiding for at least a little while in the woods around Dilsen-Stokkem, about ten kilometers from his home.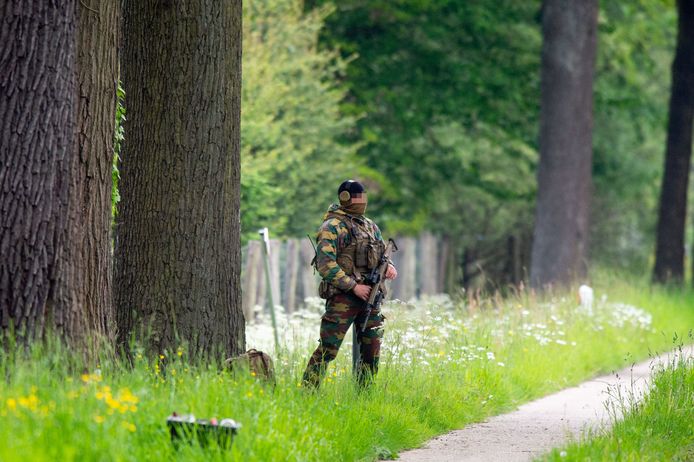 © Belga
The location of the backpack had been searched before, but then the search was mainly for Conings himself and not for traces of him. A search on the same site last week was particularly difficult, according to HLN, because the forest at that place is very densely grown.
Hidden
The question now is: did Jürgen Conings have to flee because the investigators were too close to him and did he leave all his provisions behind? Or does he have extra food with him and is he still hidden somewhere in the woods of the Hoge Kempen National Park? It is a scenario that the researchers still cannot rule out, although they also take into account that he is in a different location in the Netherlands or abroad, or that he may not even be alive in the meantime. Aarts at Op1 to talk about the still not found Belgian soldier Jürgen Conings and how it is possible that he is so untraceable:
Source: https://www.ad.nl/buitenland/legervoeding-waterfilter-en-medicatie-jurgen-conings-had-alles-om-weken-te-overleven-in-de-natuur~ad1e07cb/